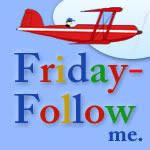 Hey Hey everyone! well its FRIDAY.. yipee!
and I am participating in Friday- Follow! I have not been joining lately since I have been so busy :( but I like to jump in when I can.
ALl of you new bloggers to my world.. I am Tabatha, wife to an amazing man, mom to my twin girls, my son, and a stepmom to my daughter and another son.. so we have 5 kids. LOADS OF FUN...never a dull moment.
This blog is for me to write about Anything and Everything that I want to, sometimes I am telling happy stories, or praising something/someone, sometimes I am just plain bitching to the blog world about anything that is bugging me.
I have come to love the blog world/friends for all their sweet and loving and helpful comments and advice. I love reading and making new friends with each of you!
SO I look forward to making more!
Have a fantastic weekend :)