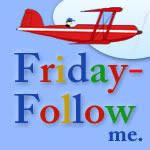 Its that time again... and its a great Blog hop... I love that they started it and now I have made so many more friends...
If your new here... well I am Tabatha and this is my blog... where I talk, bitch, cry, rave, praise, etc... about just about anything that I need to. SOmetimes good things come out of my head, and sometimes memories and other things.
I'd love to see ya hang around...
Have a great weekend.