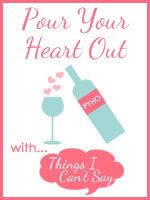 This is probably one of my favorite days of the week... and its all thanks to
SHELL
.
So anyways you have all already read stuff bout my
wonderful EX (insert sarcasm here)!
but he still gets my blood boiling... and ugh I have to vent again...
So here is the story.. He thinks he is the WORLDS BEST DADDY... yet my kids would rather stay with me and see him on weekends only instead of the week to week thing we do. But see here is the problem.. he can't stand to think someone else is doing more than him.. though DANNY does way more for my kids than X does. He is coachin my girls softball team, he gets them things they want/need, (as stupid as letting them pick out a $1 book in the scholastic book thing) their daddy NEVER lets them order out of.. I know that may not be important but still to the kids those lil things matter. that is just one example of MANY...
Well Friday ... we all had it out.. I asked X for some money for the girls' ALL STAR stuff.. and of course that turned into a fight. That turned into a bigger argument where he basically tells me how crappy a mom I am and to get off my butt and do something for my kids, and quit letting DANNY step in and take care of MY kids... I have been workin all year subbing instead of a perm job.. so not making the money I was last year.. things have been tough.. but I NEVER ask money from him. He preceeds to call my husband and idiot and many other things. I am always going out of my way (Because they are MY KIDS).. to pick them up or do whatever when he calls.. well as of friday I said NO MORE.
am I wrong for that?
For over a year and half I have sent two suitcases of clothes every week to his house.. makin sure they always have what they need (he will even call me and ask for things if they are not in the bag) let me insert here also.. we only live bout 10-15 min apart... side by side cities. So I told him starting this next week I was not going to send ANYTHING he could go but stuff and make sure they had clothes to wear. NOw also let me say this.. I get NO child support or anything from him.. we have shared custody where they stay with me from FRI to FRI and then him till the next Fri. So everything is suppose to be 50/50 basically but it is NOT!
I will not say he does NOTHING for the kids but he doesnt go out of the way to help with them or do much extra.
SO during the fight over the phone between me, X & Danny... danny let him know he willno longer put up with him putting me down and making me feel like crap.. that he should respect me as his kids mom.. and Danny will not deal with him treating me like shit anymore now that I am married to him. Wasnt pretty at all. My X is one of those everything is either BLACK or WHITE.. NO inbetween areas.. his way usually or its not right.
SO anyways now that friday is almost here, I wonder am I wrong for wanting to send the kids with basically only one outfit a piece plus what they wear that day? Do i contnue to let him have his way and never do anything More?
SORRY this was so long everyone... if you made it this far.. thanks for reading.. Just needed to get some of that off my chest!
Yall are awesome friends!