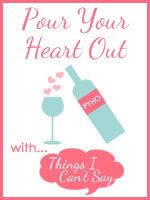 Oh one of my favorite days to write... Pour Your Heart Out Wednesdays!!!
There was a time not to long ago that I felt I would never find anyone that would want to be with me, or that would understand me, or love me the way I wanted to be loved. I had this image in my mind after getting divorced... who wants a 26 year old woman with not 1, not 2, but 3 kids... I figured in the end I would just settle for a guy that would be nice to my kids and not treat me like crap.
Yes, I have always wanted that FAIRY TALE.. though I have never felt like the princess... cuz if you ask my kids I am the QUEEN!!! and I just wanted my KING!!!
(funny story there.... my kids said the king died when I got divorced from thier daddy.. and that the twins are the princesses and e-man is the prince - and Only they can say who can be king) (they did allow danny to be king finally).. anyways back to my story... So my X always said there is no such thing as a fairy tale, and I shoudl quit living in my fairy tale world....and we wonder why we arent still together lol... but anyways so after my divorce from X... I went crazy for a bit.. I was the lil bird let out of the cage and was FREE. Though I did everything to take care of my kids... I needed to find me again! TOok a long time... still at times I think I am still trying to find me. I know I made so many mistakes along the way but I am not sure I'd really go back and erase most of them. If i could talk to my old self I might would say just think things through a lil better... ya know.
So not tooo long ago...January 3rd 2009 I met Danny... and boy did we hit off instantly! From that saturday night on we were together, or on the phone with each other. He was so easy to fall in love with... here is the first pic we took together .. with my cell phone lol...
I can honestly say Today that I have found my KING - he loves me, supports me, builds me up, lifts me up, and is MY BEST FRIEND!!! He loves my kids as if they are his own. He works so hard everyday to give us everything we need! The day he proposed to me.. I wasnt sure I could be happier :)
but let me just say I was even happier on the day we got married... and now even today he is what makes me smile.... I love knowing I get to go home to him, and he wants to be there... we have fun doing everything and anything.. whether it be watching a movie at home, or driving around town, we laugh and play and that means more than he will ever know! He is truly amazing and I feel so blessed to have him. I love him more than words will ever say!
our engagement pic :)
then us on our wedding day - dancing to our song!
I LOVE HIM SOOOO MUCH!!!