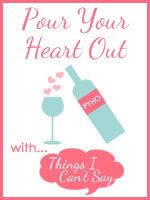 It's That time again.. my fav meme over at SHELLS... time to Pour YOUR or shall I say MY heart out!!
Well this is not the first time and I know it won't be the last time but today I am going to complain a little
See my ex and I have shared custody of my (i guess Ill say our) three kids (the twins and my baby boy)... We have them a week at a time.. from Friday to Friday!
I DO NOT get any child support or anything.. he is required to have them on his insurance and pay daycare (which will only be for another few years .... THEN WHAT?)
To top it off he makes probably TWICE if not more than that than me... especially right now since I have not had a full job just been subbing!... so anyways
the girls have been playing softball for the last three year (which he encouraged first) but guess who usually pays for everything that has to do with it .. oh wait bet you couldn't guess ME! So this past weekend the girls wanted to sign up for cheer leading.. not my fav idea.. but its not for me its for them... and If they wanted to do it I wanted to let them try.. so i call up X and ask him.. he agrees as long as no matter who's weekend it is I TAKE THEM...he doesn't want to go watch every Saturday some kids play football while his girls are cheering... ok whatever so be it.. I agree.. he agreed to pay for the whole thing basically at this time. SO my hubby said OK go sign them up (must pause here to say my hubby is the BEST STEP DADDY ever .. he even is coaching softball for my girls ALLSTAR team)... So I write a check, get them signed up etc... then when its time for X to give me money back guess what he does..... oh did u guess any of you...
HE ONLY GIVES ME 1/2!!! WTF ... now lets just say HUBBY was beyond MAD and wanted to KICK some you know what! (had to get him to calm down at the softball tourney)
So on top of that as I have already posted my girls made all stars for softball.. can we say MORE $$$$$... and I know X who thinks all the lil nick nack crap that most parents (moms) want to buy the team .. are STUPID.. will give me crap and not help us. ALWAYS has some excuse. yet always has money for hunting and going in boat etc...
SO that is just what is so Frustrating right now bout my X!
Then just a short thing bout my hubbys X.... she went and bought a dress for their daughter (my stepdaughter.. for my hubbys brothers wedding..(this weekend) she sends a pic msg to his phone.. the dress is HOT PINK with bright polka dots...he preceeds to tell her.. this is going to class with the colors of the wedding (candy apple red).. so every picture will she will class and take away from the bride... his X then said "oh well she isn't in the wedding anyways" and "i am not buying a dif dress or taking this one back"... WTF can we say she is a B! So my hubby has to go find a dif dress for his daughter before the wedding.. so that she doesn't look like an Easter egg in all the family pics.
I JUST DONT UNDERSTAND SOMETIMES WHY THESE EXS ARE SO HATEFUL... DO FOR YOUR KIDS.. ITS NOT FOR US ITS FOR YOUR KIDS...
SO ANYWAYS SORRY IF I BORED YOU TODAY... i just really
NEEDED
to POUR MY HEART OUT!!!
loves y'all